Drinks Coolers Buying Guide
Whether you're planning a BBQ, have extra guests staying over or holding a party, one thing is for certain – we all like a nicely cooled drink in our hand.
Dedicated Drinks Coolers are for anyone who finds themselves struggling to keep drinks cool, whilst trying to entertain your guests at the same time.
Husky want to make this process as simple as possible for you, so we've put together this buying guide, to help you decide which one will work best for you.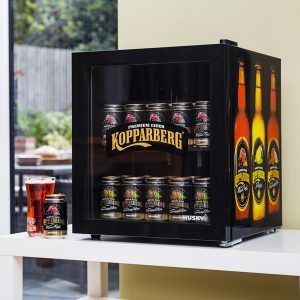 Capacity
There's plenty of Drinks Coolers on the market but it's often hard to tell just how much storage you'll get with one.
Models with below 40 litre capacity won't offer much storage and would be better placed for occasional use only.
Husky Drinks Coolers have a 46 litre capacity.  This translates to storage space that will hold up to 40 x 330ml or 440ml cans, perfect to keep the party going!
Where will it be located?
If your unit truly is a compact Drinks Cooler, you'll have the advantage of being able to keep it almost anywhere. Its countertop size should sit discreetly on a kitchen work surface, in a utility or in the corner of a room and is portable to become the centrepiece of the party.
As with any Drinks Cooler, ensure you don't place it in direct sunlight, against a radiator or box it in.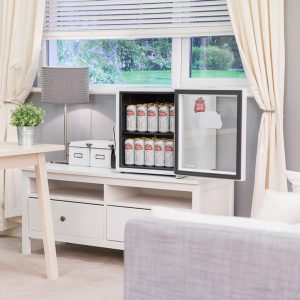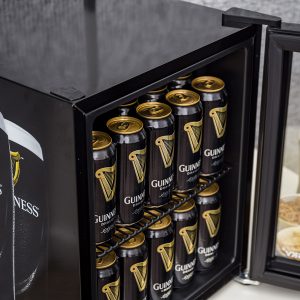 Choice of styles and design
Many entry models are only available in a plain finish.
Husky Drinks Coolers are available a wide choice of colours and designs, including official, licensed designs such as Coca-Cola, Budweiser and Kopparberg.  This allows you to choose something that will perfectly reflect your personal style, your home décor and even your favourite drink!
Some models have labels that can peel over time. Husky Drinks Coolers also have screen printed designs that are printed directly onto the cabinet, continuing to look great as you use it.
Also make sure it is a true compressor model – some models are thermoelectric. A Drinks Cooler with compressor technology will ensure that you achieve the right cooling temperatures, all year round.
Features you can expect
Despite its compact size, you shouldn't have to compromise on features.
Good models will have a removable shelf.  This provides the flexibility of storing bigger and bulkier items as and when required.
A reversible door is really handy as it allows you to change the location of the Drinks Cooler and be assured that you will always have access.
A double glazed glass door proudly displays the tempting contents, ready for you and your guests to help themselves!
Check out the energy rating too. Ideally you need something that is at least an A rating to make it cost efficient to run.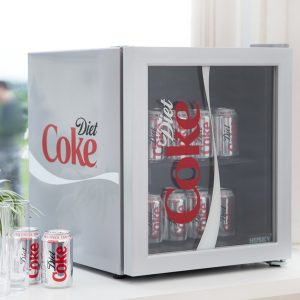 Best Selling Drinks Coolers