Wine Coolers Buying Guide
With wine sales on the rise the need for dedicated wine storage is growing. Wine is a constantly developing drink and can be affected by its surroundings. By keeping your collection in the correct conditions you'll ensure the wine matures properly. So if you love wine, show your wine some love.
Because Husky know a thing or two about wine coolers, we want to make this process as simple and pain free as possible for you. We've put together this buying guide to help you decide which wine cooler will do the best possible job for you.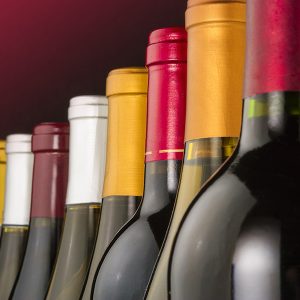 How many bottles do you need to store?
Wine coolers that sit on the counter top in the kitchen typically hold anything from 6 to 12 bottles. If you have more than 12 bottles to store then you should consider a wine cooler that sits underneath the worktop.  Husky Signature Wine Coolers start at a 26 bottle capacity and increase to 52 bottles.
The other thing to consider is what type of wine you buy and want to store on a regular basis. Most wine coolers (including ours) are designed to take Bordeaux or Burgundy size bottles, normally a 75cl bottle size. If you plan on storing champagne then fewer bottles will fit in your cooler meaning you will have to remove shelves or store fewer bottles.
Single or Dual Zone?
Red and white wine require different storage temperatures. Generally speaking you store white wine at 10-12°C and reds at 12-16°C. All fine so far. But what if you drink both in your house? Does that mean cold red wine or warm white wine?
If you typically only buy red or white wine then a single zone wine cooler would be a good option for you. If however, you like to enjoy both red and white wine then a dual zone wine cooler might be a better choice for you. That's because a dual zone wine cooler has two independently operated temperature zones allowing you to store your red wine at a different temperature to your white wine.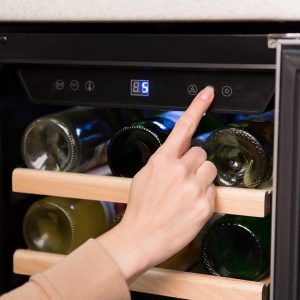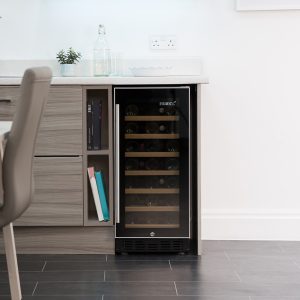 Where to locate your wine cooler?
A wine cooler is just the same as your household fridge – it should be placed somewhere where the ambient temperature does not fluctuate too much. So avoid situating one in the garage or conservatory. If would like to place a wine cooler under the counter, then ensure it's under 90cm high including space for clearance guidelines.
Free standing wine coolers typically require circulation around the back and sides of the cooler to operate correctly.  A free standing wine cooler can be placed under a counter as long as there is space for air circulation. Always follow the manufacturer guidelines for required clearance when placing it under the counter.
Shelf Configuration
Entry level wine coolers typically have fixed shelves. Higher specification models have shelves that you can pull out making it easier to view your bottle of wine.
If you enjoy entertaining, adjustable shelves make it easier should you wish to store extra bottles.
The type of material used for the shelves varies too – from chrome shelves to a higher spec wooden shelf. Our stainless steel Signature wine coolers also feature stainless steel trims on their wooden shelves for added style.  Our HN6 Reflections Slimline Drinks Cooler also includes standing space to store opened bottles.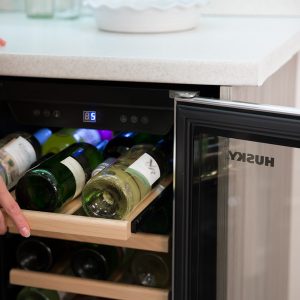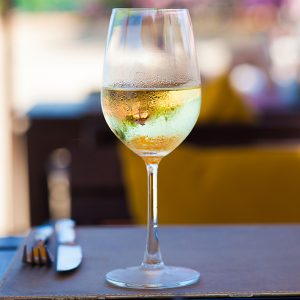 Protecting your investment wines
Look for wine coolers that include additional features to protect your wine investment.
Show off your wine collection with a glass door wine cooler and look for models with interior lights.  Always ensure that the glass is anti-UV to protect the contents from sunrays.
It's important to store your wine in correct humidity conditions as well as at the right temperature. Dry storage dries out corks, while excessive moisture allows mould to grow.  A charcoal filter protects the contents from strong odours in the kitchen, keeping the wine in perfect drinking condition.  Always check that these filters are replaceable as they do wear over time.
Finally, consider a lockable model if you want to safeguard your most prized collection.
Environment & Costs
Annual costs for running a wine cooler are typically reasonable.  Always consider the energy rating when you are buying a wine cooler.  All Husky Signature Wine Coolers have an A energy rating, which will keep the running costs even lower.
Don't forget that if you are disposing of an old unit then you should dispose of it responsibly. Your local Council should be able to help you with this.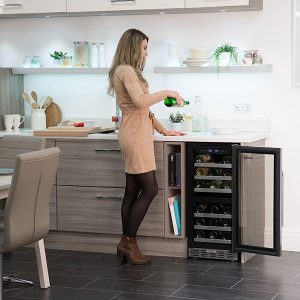 Best Selling Wine Coolers