Coca-Cola Retro Mini Fridge Range
HuskyDave
Husky Retail has combined the vintage styling of their popular Retro Mini Fridge with design elements from the Coca-Cola Arciform (Fishtail design) and Harlequin Coke pattern, widely used in 1960s advertising, packaging and beverage styling.
Creating a Husky Coca-Cola Retro Mini Fridge range, that's right on cue for the era, in three colours, Classic White, Radiant Red and Piano Black in two design types, Stars and Harlequin.
It's the perfect pairing, delivering the retro elegant look, even where space is at a premium.  At 540mm high and 510mm wide, the Husky Coca-Cola Retro Mini Fridge fits on a standard kitchen countertop or works as a freestanding statement piece.
Stars Design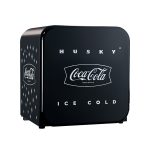 Although the design is vintage, the compressor-driven, Husky Retro Mini Fridge includes the latest features.  The one piece curved styling of the Retro finish has no unsightly joints.  The 41 litre storage capacity will keep 40x440ml cans 'ice-cold', whilst the internal temperature can be adjusted between 0-10°C meaning the fridge is ideal for storing food and dairy.  The new models also include an A+ energy rating, a wire shelf and the reversible door incorporates handy storage too.
Harlequin Design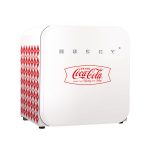 The range is available now for just £269.99 including free mainland UK delivery. There's very limited stock in all designs so order quickly. Shop now >>