Mini Fridges Buying Guide
Compact refrigeration has become increasingly popular due to its size and portability and has quickly established itself as an essential household appliance. Varying in size, capacity and design there's more to these clever little fridges than meets the eye.
We've put together this buying guide to help you decide which one is right for you.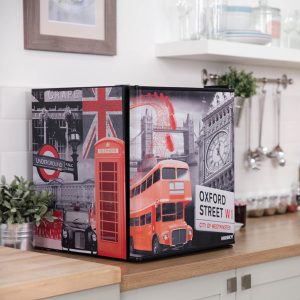 Capacity
There's plenty of mini fridges on the market but it's often hard to tell just how much storage you'll get with one. As a rule of thumb anything below a 40 litre capacity won't offer much storage and would be better placed for occasional use. To make the most of the mini fridge you want one with over 40 litres storage capacity.
Make sure it is a true compressor model – some models are thermoelectric. A mini fridge with compressor technology will ensure that you achieve right chilling temperatures, and because it can get as cold as 0°C it is food and dairy safe too*.
Many models also offer door storage too allowing you to make the most of every available inch of space – which is great for bottles and jars or anything else that needs to be stored upright.
*in case you wondered, all our mini fridges are food and dairy safe!
Where will it be located?
You'll be able to keep your mini fridge almost anywhere. This truly portable unit will sit discreetly on a kitchen work surface, in a utility or in the corner of any room. As with any full sized fridge ensure you don't place it in direct sunlight, against a radiator or box it in.
Mini fridges are ideal for students, flat shares, BBQ's, parties or as an overflow at social gatherings such as Christmas.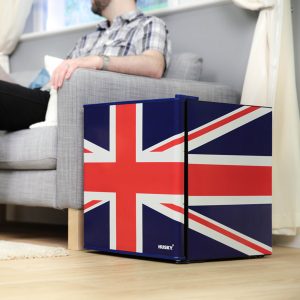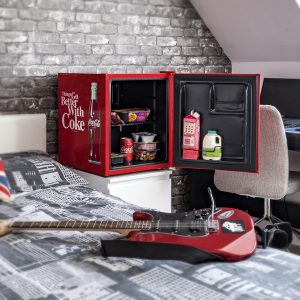 Features you can expect
Despite its compact size, you shouldn't compromise on features.
Good models will have a removable shelf which will provide the flexibility of storing bigger and bulkier items too. Look out for door storage too – as this will give you the chance to store opened jars & bottles. A reversible door is really handy.
Check out the energy rating too. Ideally you need something that is at least an A rating to make it cost efficient to run.
Choice of styles and design
Many entry models are only available in a plain white finish. Higher-spec models often come in a choice of colours and designs allowing you to choose something that will reflect your personal style and your home décor too.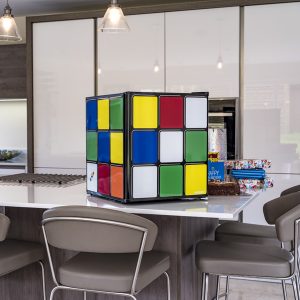 Best Selling Mini Fridges